We regret to inform you that master Xuankong left us in glory, on October 18, 2011. His whole life is a model for the YiJinJing school. A model that we will follow in all our activities.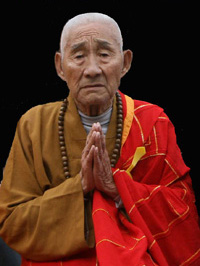 Birth Name: Zhao Xuewen (赵学文)
Nationality: Han
Age: 90 years
Buddhist Name: Xuankong (玄空)
Master Xuankong was born in 1920 into a family of doctors in the city of Wuhu in the province of Anhui, China. At the age of 9 he went to Shanghai to study traditional Chinese medicine and martial arts with the renowned doctor Wangziping. He traveled for a year and then retired in the Shaolin Temple due to the war in the Dongbei province. The name Xuankong was assigned to him when he converted to Buddhism. He studied Buddhism and specialized in Yijinjing (meridian channel transformation), the internal martial arts and Zen Buddhism, founded by Bodhidharma. After many years of dedicated study he achieved perfection in the advanced ascetic Yijinjing techniques and Qigong  treatment methods. Master Xuankong was an expert in Qigong medical treatment which included diagnostic methods, repairing the bones and correctly prescribing treatments and herbal medicine recipes. His almost magical medicines have cured many rare diseases. Residents of the Yangtze River praised him as a living Buddha and a distinguished physician.
Looking back to his life, we find that master Xuankong carried burdens that we could not tolerate, and walked paths that we are not able to. He finally gained what is called "soul Yijinjing". He is the oldest traditional medicine healer in China, one of the most famous doctors of the Chinese nation, a hermit who has attained perfection in the art of martial Qigong. It is difficult to express in words the 70 years of effort, dedication to Yijinjing Qigong, research and treatment. In his lifetime he accumulated and synthesized a valuable sum of clinical experience along with great medical knowledge, all directed to help people develop physical and spiritual health.
He combined Yijinjing Qigong with traditional Chinese medicine and was able to produce unprecedented miracles. The Yijinjing Qigong Master could emit Qi to patients who were at any distance whatsoever. Depending on the case, this Qi was used to cure diseases or to strengthen the health of patients and make them physically stronger. Even rare diseases that have been clinically diagnosed and are difficult to treat can be cured effectively with Yijinjing Qigong in a relatively short period of time. Diseases such as emphysema, asthma and malignant cough attributed to chronic tracheitis respond particularly well to Yijinjing Qigong treatment. It is also effective for eliminating different types of pain.
We live in a very favorable time because, despite living in seclusion, Master Xuankong wants to offer all of his methods and experience as well as to teach medical qigong in order to benefit as many people in the world as it is possible.
Although it seems hard to believe, Master Xuankong' s Yijinjing Qigong is miraculous. He has saved countless lives and many patients have been treated during these last 70 years. There are numerous cases of serious chronic diseases that have been healed and disappeared even within a single day and in the last few years his name has become famous throughout the world. His treatment skills are beyond comprehension within traditional or western medicine theory, giving him the respect and admiration of all the patients who have met him.
In the last 30 years Master Xuankong has been visited by patients from around the world in order to treat rare diseases that by traditional medicine remained incurable. Most patients were examined by famous doctors in various hospitals around the world,  that failed to successfully treat their diseases. In the end they traveled to see Master Xuankong  whose skills and experience made ​​their diseases disappear without any trauma upon the prescribed treatment.
Master Xuankong  has been invited in more than 60 countries including USA, Japan, England, France, Germany, Singapore and Israel, in several medical conferences and Qigong events. Among his patients have been treated several celebrities . Because of the discretion of the YiJinJing school we will only mention here Deng Lijun (Teresa Teng), the famous folk singer from China and Abdurrahman Wahid, former president of Indonesia.