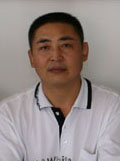 Name: Jiang Feng
Nationality: Han
Age: 44 years
Master Jiang Feng was born in the district of Jixi, in the province of Anhui, China, in 1965. In 1988 he started promoting a traditional Chinese medicine practice  in Anhui Province and he is currently the vice president of the Buddhist Association in Jixi district, a doctor of traditional medicine and the deputy director of the Institute for Research in Traditional Medicine in Jixi. Having been engaged in clinical experiences for over 18 years, Jiang Feng studied during adolescence with Master Xuankong from the famous Shaolin temple. After rigorous training he became adept in Yijinjing Qigong techniques and has used them for treating patients that visited him. He has made important contributions in disease prevention and the development of better health status for his patients.
Master Jiang Feng specializes in the use of Yijinjing Qigong for diagnosing and treating various diseases in the organs (heart, liver, gall bladder, lungs, stomach, spleen, kidney, gynecological diseases) and is also able to instantly eliminate localized pain in various body parts as well.
He has been invited in several countries to provide treatments and education in Qigong. It's worth mentioning his work for more than one year for the royal family of Thailand and recently the royal family in Malaysia. He has also treated many patients from various other countries.